PRP Injection Treatment
At Lone Star Orthopaedic and Spine Specialists, we strive to offer the best in orthopaedic care throughout Burleson, Fort Worth, and Mansfield, TX. One of our leading treatments includes Platelet-Rich Plasma (PRP) injections, an advanced, non-surgical method for relieving pain and promoting long-term healing. By harnessing the body's natural healing mechanisms, PRP injections in TX have revolutionized how we treat orthopaedic conditions.
Regenerative medicine is an exciting emerging field that offers patients suffering from joint pain new treatment options. Our entire team at Lone Star Orthopaedic and Spine Specialists is committed to delivering innovative and personalized care to our patients, which is why we are proud to implement treatments such as platelet-rich plasma (PRP) injections.
What are PRP Injections?
PRP therapy is a non-invasive, outpatient procedure that uses your body's natural growth factors to stimulate healing and tissue regeneration. It involves drawing a small amount of your blood, processing it in a centrifuge to isolate platelets from plasma, then re-injecting the concentrated platelets into the injured area.
The harvested platelet-rich plasma increases the concentration of growth factors present to potentially speed healing.
What Are PRP Injections Used For?
While PRP injections are a relatively new medical procedure, the results are promising. This minimally invasive treatment has been shown to help patients suffering from conditions such as:
Chronic back and neck pain, including lumbago
Tendonitis
Sports-related injuries
Osteoarthritis
Ligament and muscle injuries
Carpal Tunnel Syndrome
ACL injuries
Post-surgical pain
Rotator cuff issues
Bursitis
PRP injections are proven most effective as a part of a multi-faceted treatment plan, which will vary from person to person. At Lone Star Orthopaedic and Spine Specialists, we take pride in personalized care, customizing every treatment plan to your specific needs. Before we ever recommend PRP injections, we will determine whether or not you are a good candidate for the treatment and then walk you through the process from start to finish so you feel comfortable and confident.
The Benefits of PRP Injections in TX
PRP therapy is known to deliver remarkable benefits:
Natural and Safe: PRP uses your own blood, eliminating risks associated with donor genetic material.
Promotes Healing: PRP injections deliver a high concentration of growth factors, accelerating the healing process.
Minimally Invasive: PRP therapy is performed as an outpatient procedure, meaning minimal downtime.
Pain Reduction: Many patients report significant pain reduction and improved function within weeks.
Versatility: PRP therapy can be used for a wide range of orthopaedic conditions.
The PRP Injection Process
We prioritize your comfort throughout the procedure:
Consultation: We'll discuss your health history, current condition, and goals for recovery.
Blood Draw: A small amount of blood is drawn from your arm.
Preparation: The blood is spun in a centrifuge to concentrate the platelets.
Injection: The PRP is carefully injected into the affected area, guided by ultrasound or x-ray if necessary.
Recovery: Most patients can resume their daily activities immediately after the procedure.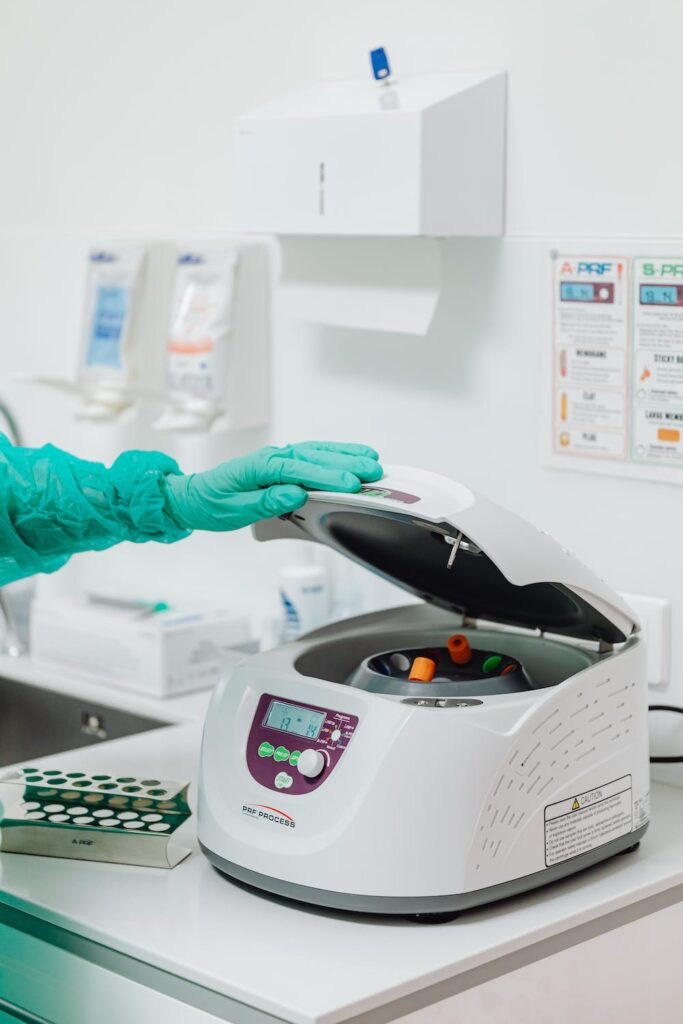 Pairing Innovative Treatments with Genuine Care
PRP injections are a low-risk and minimally invasive procedure using your own blood, which makes your chances of allergic reaction much lower than with other injectables.
Our friendly and professional team wants you to know exactly what to expect going into your PRP injection treatment, which is why we explain both the procedure and post-procedure protocols.
In addition to PRP injections, we offer stem cell injection therapy, another promising regenerative medical procedure. If you are curious about how either of these solutions can help relieve joint pain, reach out to our team today.
FAQs on PRP Injections in TX
1. How long does the PRP process take?
The entire process, from drawing blood to the injection, typically takes about an hour.
2. Are PRP injections painful?
PRP (Platelet-Rich Plasma) injections can cause some level of discomfort or pain during and after the procedure. This is largely because they involve the injection of a substance into a joint or tissue area, which can be sensitive.
During the procedure, patients typically experience a pinch sensation when the needle is inserted. To minimize discomfort, local anesthesia or a numbing agent is often applied to the area before the PRP is injected.
Following the procedure, some patients may experience soreness or aching in the treated area. This is a normal part of the healing process as the PRP starts to repair the damaged tissue. This discomfort can range from mild to moderate and can last for a few days to a week. Over-the-counter pain relievers and the application of cold packs can help to alleviate this post-procedure pain.
It's also important to note that pain tolerance varies greatly from person to person. Some people find the procedure relatively painless, while others may find it more uncomfortable. However, most patients agree that any discomfort experienced during or after the procedure is manageable and well worth the potential benefits of PRP therapy.
Always remember, your doctor will discuss these aspects with you in detail prior to the procedure, and they will work to ensure your comfort throughout the entire process.
3. How many treatments will I need?
This depends on your specific condition. Some patients experience improvement after one treatment, while others may require a series of injections.
4. Are there any side effects to PRP injections?
PRP therapy is generally safe. However, as with any injection procedure, there is a small risk of infection, bleeding, or nerve damage.
5. How soon can I expect results?
Results vary from patient to patient. However, most begin to notice improvement in pain and mobility within a few weeks.
6. Are PRP injections covered by insurance?
Coverage for PRP injections varies by provider. Our team will help you understand your coverage and potential out-of-pocket costs.
7. Can PRP therapy be combined with other treatments?
Yes, PRP therapy can be used in conjunction with other treatments for optimal results.
8. Is everyone a suitable candidate for PRP therapy?
Most people can benefit from PRP therapy. However, those with certain medical conditions, such as cancer or certain types of anemia, may not be suitable candidates.
Schedule Your PRP Consultation Today
If you're searching for advanced, effective orthopaedic care, Lone Star Orthopaedic and Spine Specialists in Burleson, Fort Worth, and Mansfield are here to help. Contact us today to schedule your PRP consultation and begin your journey to a healthier, more active life. PRP injections in TX are just a phone call away.
We are at your service!
Contact us & plan your visit.
If you are looking for pain management in TX, we can help. We believe that we can truly improve a patient's quality of life. Use our secure online appointment request form or call us today to schedule an appointment at one of our locations in Fort Worth, Mansfield, or Burleson, TX.