Lone Star Orthopaedic and Spine Specialists
Exceptional care
for your orthopaedic needs
Request an appointment in your closest location:
Why Choose Us?
Dedicated To Restoring Active Lifestyles
Our goal is for your to get your life and mobility back. Join thousands of patients who trust Lone Star Orthopaedic and Spine Specialists as their home for orthopaedic care.
Experience
Millions of people will see an orthopaedic doctor this year, and many will continue seeing the same orthopaedic doctor for years. Your comfort and happiness with your orthopaedic doctor are so important.
When selecting an orthopaedic provider, experience matters. Lone Star Orthopaedic and Spine Specialists have assembled a talented and experienced team of physicians that cover multiple specialty areas within orthopaedic medicine. Our orthopaedic surgeons have decades of experience in their specialties and genuinely enjoy seeing patients improve with each visit.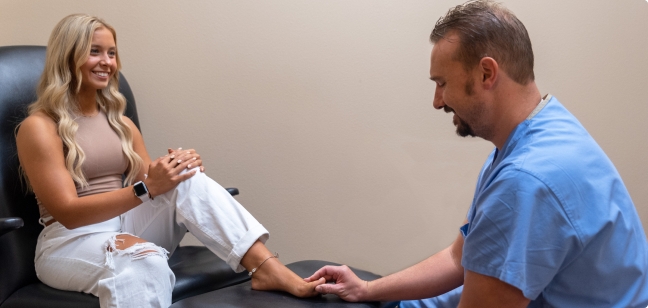 Convenience
Convenience is another benefit of being a patient of Lone Star Orthopaedic. We will meet all your orthopaedic needs in one office, saving you time and money. Plus, you can use the built-in features on our website to request appointments, update patient forms, and communicate with us online.
Experience
Experience and trust are vital when choosing an orthopaedic provider. Lone Star Orthopaedic and Spine Specialists has assembled an experienced team of doctors for any and all your orthopaedic needs. Our orthopaedic surgeons are highly skilled in their fields and are passionate about seeing their patients' lives improve.
We are at your service
Contact us & plan your visit
Whether you are looking for orthopaedic services or pain management, we can help. We believe that we can truly improve a patient's quality of life. Use our secure online appointment request form or call us today to schedule an appointment at one of our locations Burleson, Fort Worth or Mansfield, TX.
Real Experiences
Our Success Stories
At Lone Star Orthopaedic, we understand that pain from a serious injury can affect more than just one person. Personal injuries often create roadblocks to enjoying the simple things in life, such as playing sports with friends, taking walks with family, or spending quality time with your loved ones.
Our talented staff of professionals is dedicated to helping you regain your quality of life. Take a few minutes to find out from real patients how we have changed their lives, then give us a call to get started on your own road to recovery.
Our Main Services
A basic part of orthopaedic medicine is fixing traumatic injuries to the musculoskeletal system, including all types of fractures. These problems require prompt medical attention. Trauma can involve multiple injuries when you have been involved in a motor vehicle accident or work accident.
Burleson Office
215 Old Highway 1187
Fort Worth Office
929 Lipscomb Street
Mansfield Office
167 Regency Parkway, Suite #103